Top 9 Facts About Pet Air Travel
Published on: May 29, 2017 | Author: Starwood Pet Travel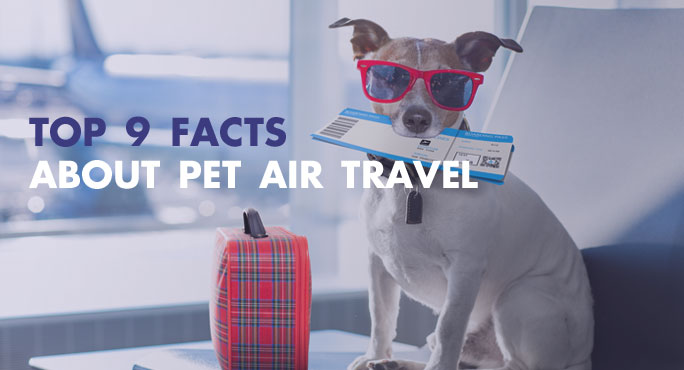 It happens over and over, every day. "Fancy" pets travel by air to dog and cat shows. Household pets fly with their families on vacation or as part of a move across the country or to a foreign land. If your pet is about to embark on his first airplane trip, you are undoubtedly concerned to know what pet air travel really entails.
Here are some key facts every caring Fur Mom or Fur Dad should know:
1. Pet travel is on the rise
Globally speaking, we live in an increasingly pet-friendly culture. More than two million pets now fly each year on American air carriers alone. Thousands more travel on international airlines to destinations around the world.
2. Taking your pet on board isn't necessarily a good idea
It sounds so much simpler. Pack your kitty or mini-pooch in a shoulder-bag-cum-carrier, and he becomes your carry-on. Many airlines allow you to do that, however:
You still need to purchase a ticket for your pet
You still have to acquire all the health documentation required by your destination
You'll also have to carry on (for your pet) a water dish, a snack, a leash, a toy, and clean-up items
He will have to spend the entire time in his carrier, under the seat in front of you – no lap time en route
This can be quite doable on a short, direct flight, but for long or multiple flights the hassle will quickly outweigh any benefits. And if your Dear One raises a ruckus or – heaven forbid – does his business during the flight, well let's just say you won't achieve Good Neighbor status. Recently, at least one airline removed a passenger and their cat for just this reason.
3. Yep, there's a lot of paperwork for out-of-country travel
Just like you need a passport, your pet needs travel documents, too. Pets not only have to prove their identity, they have to prove they are in good health in order to enter another country. It can be time-consuming to acquire the necessary paperwork, but the rules are there to protect the health and safety of everyone.
The most important fact to know about paperwork? Every country has its own set of rules, and they all expect 100% compliance. As soon as possible, find out what is required for your destination, and start the ball(s) rolling. That way you'll have everything you need by the time your pet is ready to depart.
4. Safety is always a concern, but the reality is that air travel is very safe for pets.
Quoting pet travel statistics issued by the U.S. Department of Transportation, the International Pet and Animal Transportation Association reports there were 26 airline-related animal deaths in 2016. To put that in perspective, consider the fact that more than 100,000 dogs deaths occur each year when they fall or are ejected from truck beds.
5. The world is watching – and that's a good thing
With pet owners, animal rights groups, and the general public looking closely over their shoulders, most airlines are more diligent than ever about protecting the health and safety of pets and other animals entrusted to their care.
6. That said, not every airline treats animals the same
Air carriers that bill themselves as pet-friendly transport pets in cargo areas that are pressurized and temperature-controlled like the passenger cabin. Some airlines take additional steps to ensure safe, compassionate handling of pets in their care, and a few go over the moon for their feline and canine guests.
7. Weather can affect your pet's ability to travel
Except for the occasional blizzard or hurricane, you can fly regardless of the weather. Not so for pets. Airlines will not allow accept animals if they deem it too hot or too cold at any stop on the itinerary. This protects pets in transit to and from the plane, but it can cause a last-minute change in your pet's travel plans. It's not something you can control, but it is something to be aware of.
8. There are ways to ease pet travel stress
Taking specific steps to prepare your pet for a move will reduce anxiety and stress with travel day arrives. Likewise, there are things you can do ahead of time and after you arrive to help dogs and cats acclimate to their new home.
9. Hiring a professional pet transport company will ease your stress
Whether you're going on vacation or moving, you have plenty on your mind. Hiring a professional pet transport company eliminates the burden, frustration, fear, and worry associated with pet travel preparation. Choosing an experienced, highly-rated company that belongs to the International Pet and Animal Transportation Association ensures your pet's experience will be as safe and comfortable as possible.
Starwood Animal Transport has rebranded to Starwood Pet Travel. We are still the same great company with the best team, just now with a slightly different name.
Subscribe to the Blog
Enjoy our content? Get them sent to your inbox!
Subscribe Now!
Related Posts
What to Look for in an Airline Pet Policy
Who knew you might have to become an expert on airline pet policies? Pet travel, by air as well as car, has increased ...
Read More