What's Involved in Getting a USDA Health Certificate for my Pet's Move
Published on: July 19, 2016 | Author: Starwood Pet Travel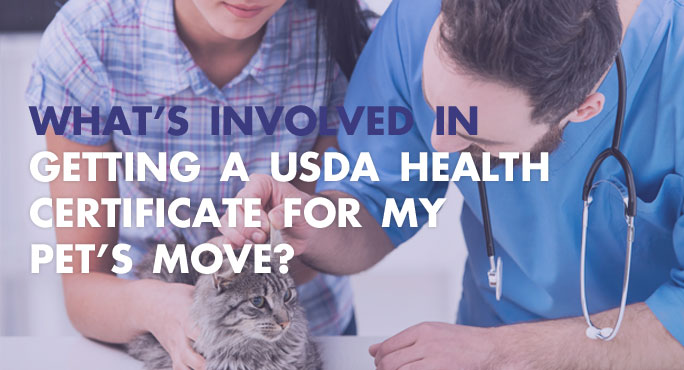 Moving with pets. You wouldn't consider leaving your four-legged family members behind, but they do add to your to-do list, whether you're moving across the United States or internationally. Naturally, one of the questions you'll be asking is, "Do I need a USDA health certificate for my pet? What's involved in getting one?"

If you're an American moving with your pet to another country, you will need a USDA international health certificate. This is Form 7001, issued by the USDA's Animal and Plant Health Inspection Service, or APHIS. You may need one or several other documents, depending on your destination country. Many vets in the US have copies of Form 7001 on hand in their office. It is also downloadable via the USDA website.

It doesn't take much time for your vet to fill out the health certificate, but obtaining all the necessary exams, inoculations, tests and the USDA endorsement can be a weeks-long or months-long process. It is critical that you learn what you will need as soon as you know you will be moving. You can go to the USDA APHIS website and scroll down on this page to find a menu of countries. Click on your destination to see a list of required pet health documentation.

HINT: You can save time and frustration by talking with your international pet transport company. They know exactly what paperwork is required for wherever you're headed. They can even help you obtain the documents, which can be a significant time-saver for you.

What information does the USDA health certificate for my pet include?
Form 7001 is short -- only one page -- but it captures all essential health information about you cat or dog:
• Your name and current address and other contact information
• Your contact information in your destination country
• Full description of your pet (breed, age, markings, etc.)
• Microchip registration number (this is required for any international travel – if your pet does not have a microchip, she will need to get one before you can proceed with other paperwork)
• Details of rabies vaccination (date, type of vaccine)
• Details of all other vaccinations
• Other certification statements, if required by your destination country
• Your veterinarian's signature and license number
• Space for endorsement by a USDA veterinarian, if needed (some countries require this additional step, in some cases it will be waived if your vet is USDA-accredited)

Do I need a USDA health certificate for my pet if I'm moving from one state to another?
Form 7001 is only used for international pet moves. Technically, you are required to carry proof of your pet's rabies vaccination when you cross state lines, but states rarely ask to see it. If your dog or cat is traveling across the country by plane, health certificates are required on all domestic flights in the US, along with a copy of the rabies certificate. Check to see if your airline requires any specific health documents.

Do I need a USDA health certificate for my pet if I'm moving to the US from another country?
No, Form 7001 is only required if you are exporting your dog or cat from the United States. Importation of pets is regulated by the Centers for Disease Control (CDC), although they work closely with USDA APHIS. CDC does not require general health certificates for dogs and cats entering the country. Your pet will be examined briefly at their port of entry for obvious signs of disease or pests.

CDC does not require cats to show proof of rabies vaccination. Dogs over three months must be vaccinated, at least 30 days before their arrival, unless you're coming from a rabies-free country such as the UK and your pet has lived there at least six months or since birth. Note that the State of Hawaii is also rabies-free and may require a quarantine stay for your dog or cat. Regardless of CDC rules, every state in the US requires pet dogs and cats to be vaccinated against rabies.

As we noted above, how much is involved in getting a USDA health certificate for your pet depends on where you are going. The key to a stress-free pet move is advance planning. The earlier you get started on your pet's paperwork, obtaining their travel kennel, etc., the smoother your move will be, for you and your pet.
Starwood Animal Transport has rebranded to Starwood Pet Travel. We are still the same great company with the best team, just now with a slightly different name.
Subscribe to the Blog
Enjoy our content? Get them sent to your inbox!
Subscribe Now!
Related Posts
What Will Brexit Mean for My Pet's Travel?
Brexit. What a shock. British citizens have voted to leave the European Union, and now everyone around the world is wondering ...
Read More