7 Ways to Get Your Pet Ready to Move Overseas
Published on: August 11, 2018 | Author: Starwood Pet Travel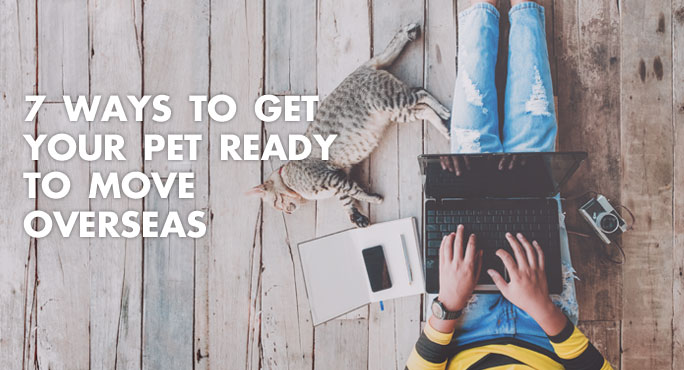 Moving overseas requires more preparation than simply deciding what to take and packing it up. You have to get your family emotionally ready to go, too, and that's not always easy – especially when your family includes a beloved pet. You cannot explain to a dog or cat what's happening and why. And, frankly, organizing a pet for an international move involves complex choreography.
Here are7 practical ways you can help your furry family member(s) get ready for their Big Move:
1. Make a timeline
Pet prep could be the most time-consuming aspect of your overseas move, and it is time-sensitive as well. A timeline that doubles as a checklist will keep you on track with vet visits and the rest of the paperwork required to take your pet to another country. The details are critical here – omissions or missteps could mean your kitty or pup will be denied entrance. Every country has their own set of rules, and certain to-dos have specific time frames for completion. Without a checklist (and a corresponding calendar), you never remember everything.
2. Prioritize your to-do list
Learning what documentation your pet will need and getting started on that is a top priority. If your destination country requires a blood titer test in addition to a rabies vaccination, that test will take six months. Once you know what is needed and when, fill in your timeline and calendar accordingly.
Then add to-dos that don't have a specific deadline. To help with that, the suggestions we've included below are presented in a sort of chronological, "do this next" order.
3. Call us
Our Starwood pet travel pros know things you don't because we transport animals all over the world all the time. Choosing the safest, most efficient itinerary for pets is not the same as making reservations for your yourself. And the farther you're going, the more complex it can be. Factors such as weather and even airplane size can create challenges humans don't have to deal with. You'll save time and get peach of mind if you let us handle your pet's travel details.
4. Purchase your pet's travel kennel
Every animal that travels by air must ride in an airline-approved carrier or crate. These products meet numerous stringent standards for safety and sturdiness. The single-best thing you can to do help your dog or cat get ready for his journey is to get the crate as soon as possible. That gives him the most time to become friends with it. By the time he's ready to depart, he will feel more relaxed inside his familiar carrier.
5. Determine what pet stuff to move
Moving overseas usually means paring down. It is expensive to move household goods, and you may find yourself living in smaller quarters that you have now. You'll have to sort through all those dog beds and cat toys and pick your dear pet's favorites. For example, things that smell familiar will be most useful in helping your pup or kitty feel at home in their new home.
Once you've decided what to take, separate those items by what can be shipped and what you'll want to take with you.
6. The day before departure
You're almost there. You're exhausted, having performed a million tasks preparing your family for the upcoming move, but you're in the home stretch now. Tomorrow is the Big Day – at least for your pet. (Families moving to countries that require quarantine often choose to send their pets on ahead.) You're surprisingly calm, because you're ready.
Just to be sure, though, take time today to double-check your preparations.
Your pet's "passport" of documents is complete. Check.

You've remembered to find your own passport. Check.

Your pet's travel reservations are confirmed. Check.
Budget extra time to play with your dog or cat today. Lots of exercise will help reduce pre-travel anxiety (for you as well as him). So will lots of love and time together. No matter how many changes your beloved furbaby has soon recently, knowing you are still there for them is what matters most.
7. Travel day
The most important things you can do on the day your pet departs is to model calm. No easy feat, we know, but you're the leader here. If you are upbeat and relatively relaxed, your pet will be, too. It's time for the final pre-flight check, then it's off to the airport. The next thing you know, you'll be reunited in your new home country.
And once you all arrive at your destination, what's the best way to greet your pet after her international journey? You know the answer: lots of smooches and cuddles, followed by some yummy treats!
Starwood Animal Transport has rebranded to Starwood Pet Travel. We are still the same great company with the best team, just now with a slightly different name.
Subscribe to the Blog
Enjoy our content? Get them sent to your inbox!
Subscribe Now!
Related Posts
Is Air Travel Safe For My Snub-Nosed Dog?
There are several dog breeds that have short, or snub noses - also known as brachycephalic breeds. These include: ...
Read More