What Professional Pet Movers Know That You Don't
Published on: February 26, 2018 | Author: Starwood Pet Travel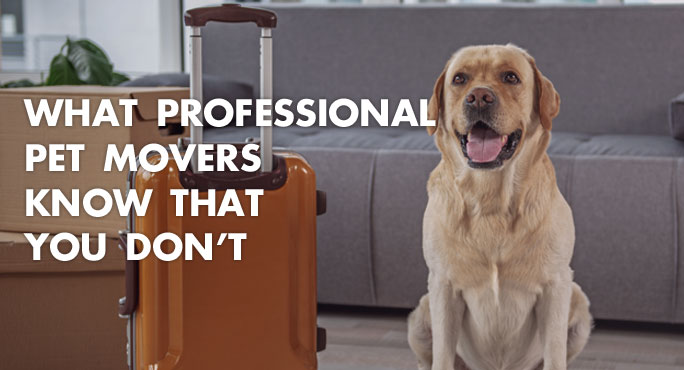 There are so many factors that have to come together to move pets safely and comfortably. Especially if you're moving internationally. Too often, pet parents think it's as easy as securing their own reservations – only to learn the hard way that booking a flight is only the beginning when it comes to pet travel. That's why professional pet movers such as Starwood Animal Transport exist.
We know things you don't. And while it is possible to make arrangements for your pet's move entirely on your own, what you don't know can cause confusion, headaches, frustration, and even heartache. Here are just a few examples.
We know why pet itineraries can be so complicated
The most convenient flight for you might not be the most convenient, or even a possibility, for your pet. If getting to your destination will require more than one flight, routing can get tricky. Issues such as time of day, potential layovers, and even the size of the aircraft determine whether any given flight is pet-appropriate.
We know how to schedule an itinerary that is short, safe, and comfortable for pets. Even if it's not the route you would have chosen for yourself.
We know which airlines are pet-friendly
Just because an airline allows dogs or cats doesn't make them the best choice for your four-legged family member. We know your furry companion is precious. They deserve the best possible travel experience. We work with airlines worldwide, so we know which ones can best accommodate your pet with love and respect.
We know what documentation your pet will need
This can become the proverbial can of worms, depending on your destination. For obvious reasons, countries don't want to admit pets who might be carriers of pests or disease. However, beyond almost universal concern about rabies, animal health issues vary from one country to another. That means the vaccinations, tests, treatments, and health certifications your dog or cat will need are country-specific.
It can be surprisingly difficult to get accurate information about what you need to do. And the timing requirements to obtain some of these things can be convoluted and cumbersome. Considering the fact that you're undoubtedly also handling myriad other details of your international move, this can easily become overwhelming. What if you make a mistake? Your Dear One could be left behind, or sent home. Yikes!
Since we move pets around the world all the time, we know precisely what is needed for every country. We can even handle all the details for busy pet parents, saving time and untold worry.
We know the little details that can derail your pet's travel plans
For example, very warm or very cold weather can stop pets from flying. This is an important health and safety rule followed by all airlines. While you can predict the weather in some cases, many times you cannot. When temperatures are borderline, airlines take it day by day.
As another example, airlines have rules about the number of animals allowed on any given flight. But they also have rules about how many pets you can have on any particular flight. If the limit is two and you have three pets who need to travel, that can feel like a dead end. Professional pet movers can often sidestep these issues, because we have well-established working relationships with the airlines. And because we are professionals – in essence their partners in pet travel.
We know that right crate, right size is crucial
You might assume that your pup or kitty can travel in whatever carrier they're used to riding in. The one you use to take them to the vet or confine them at home when you aren't around. In fact, though, pets who fly are allowed to travel only in a kennel that meets the specifications of the International Air Transport Association. These kennels are stronger and safer than everyday pet carriers.
The size matters, too --- the kennel must be not-too-small but not-too-large. Pets must be able to stand without touching the ceiling, and they must have room to turn around and lie down in a normal position. Pet parents who think this sounds too picky can find their Dear One rejected at the point of departure.
Some countries require you to use a professional pet mover
Australia is a good example. By insisting that incoming dogs, cats, and other pets travel under the auspices of a commercial animal transport professional, Australian authorities can be confident that all the details are in order. And, Australia has lengthy, stringent pet import regulations. Under the wing of a pro, your pet will travel smoothly from departure to arrival to the quarantine facility. (Yep, quarantine.)
As we noted above it is possible to arrange your pet's travel on your own. But, given everything else on your mind, sometimes it's easier and much less stressful to let a professional move your pet.
Starwood Animal Transport has rebranded to Starwood Pet Travel. We are still the same great company with the best team, just now with a slightly different name.
Subscribe to the Blog
Enjoy our content? Get them sent to your inbox!
Subscribe Now!
Related Posts
Dog Treats in the UAE
If you're moving from the United States to Dubai, Abu Dhabi, or elsewhere in the United Arab Emirates, you'll find your new ...
Read More