What You Need to Do the Day Before Your Pet Flies
Published on: August 31, 2017 | Author: Starwood Pet Travel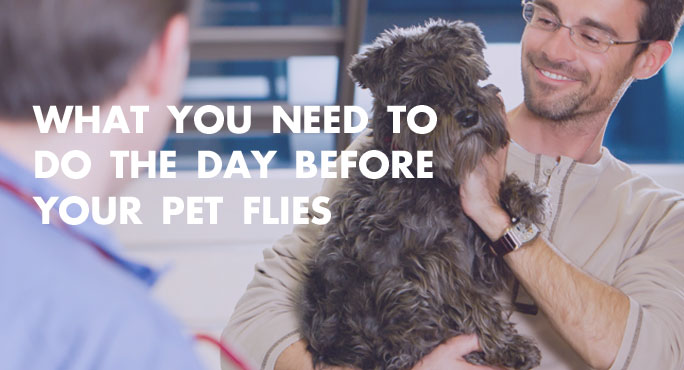 You've been preparing for your Big Move for weeks. Or, more likely, months if you're moving overseas. You've sorted through your belongings – and your pet's personal stuff – deciding what to ship and what to leave behind. You found your passport, and you've assembled all the paperwork necessary for your pet to fly to her new destination. You're all set to depart tomorrow.
Are you sure?
This is your last chance to double-check all those preparations. By the time tomorrow morning rolls around, you won't have time to make any last-minute adjustments, and your mind will be elsewhere anyway. You've worked so hard up till now to keep your furry companion calm and happy despite move-related changes. Today, you need to stay focused on that along with everything else you need to accomplish.
So here's an updated checklist that will help – things you should do today, before your pet flies tomorrow.
Remember the calendar and checklist we recommended you make, to get your pet ready for her move? Now is the time to take one more look back over that calendar. Reviewing all those checked-off tasks will give you extra peace of mind you could probably use right now.
First, confirm your pet's reservation, whether she's traveling in-cabin or as cargo.
Separate to-pack pet items from carry-on necessities
As you were sorting belongings, you decided which of your pet's things to pack in your luggage and which you wanted to carry with you. You'll undoubtedly want to pack your suitcases today, so it's smart to set aside the carry-on items right now. That way they won't wind up in your luggage where you can't get at them during your journey.
You'll need several take-with items if your little one is flying with you in the cabin:
Her carrier – hopefully you chose a Sherpa-style with a shoulder strap, because they're more comfortable to carry and easier to tuck under the seat in front of you

Her travel documents (anything that hasn't already been provided to the airline)

Her leash (even if she's a cat – the last thing you want is for her go get frightened and run off in an airport)

Portable water dish

Treats and snacks (watch it, though, you don't want to overfeed her while en route)

A small toy or chew stick to keep her amused

Poop bags and perhaps wee-wee pads

Print out a map that shows where the airport's pet relief area is located – one for each airport where you'll be on the ground
If your pet is flying as cargo, you won't have access to her during the flight, but you'll still need a few things in hand for pre-flight and arrival:
Travel documents as noted above

Leash

A portable water dish

Poop bag(s)

Small bag of treats
In your luggage, you should pack:
A few days' supply of your pet's favorite food (dry kibble is lighter than cans!)

A couple of additional toys

Your pet's medical records
Prepare her travel kennel
If your girl is flying as cargo, double-check her airline-approved crate to be sure it's ship-shape. If you've done a good job of familiarizing her with it, she has spent lots of time exploring it and sleeping or eating in it. Make sure it's clean, inside and out. Do that early in the day, so any "cleaner" smell can fade away. Better yet, just use a damp cloth to wipe down the kennel, so it doesn't lose its "homey" smell – that's an important anxiety-reducer for your pet.
If your pet is a large dog, you may want to disassemble the kennel for easier transport to the airport. Put the hardware in a Ziploc bag and tape it to the kennel so you'll have everything at hand when you need to reassemble the crate. If anything is missing, the airline may not accept your pet. (Make a mental note that you'll need time tomorrow to reassemble the kennel once you get to the cargo terminal.)
Line the floor of the carrier with her favorite blanket or an unlaundered shirt that smells of you. Do not use shredded newspaper. It's not all that comfortable, and the ink can rub off on her fur. (We aren't kidding, we've seen this happen.)
Attach the water and food dishes per your airline's instruction.
Play with your pet
The best way to alleviate pre-travel jitters – for you and your pet – is to get some exercise and together-time. Set aside extra time today, busy as you are, to play with your kitty. Take your dog to the dog park, for a run or walk, or play a rigorous game of fetch. And spend time just petting and cuddling with her. The endorphins will do you good, and your close presence will reassure your Furred One.
Starwood Animal Transport has rebranded to Starwood Pet Travel. We are still the same great company with the best team, just now with a slightly different name.
Subscribe to the Blog
Enjoy our content? Get them sent to your inbox!
Subscribe Now!
Related Posts
Your Most Common Airline Pet Policy Questions Answered
Airlines around the world transport hundreds of thousands of animals every year. But the animals that matter to you are your ...
Read More