Review of the Top 5 Pet Crates for Relocation
Published on: February 9, 2018 | Author: Starwood Pet Travel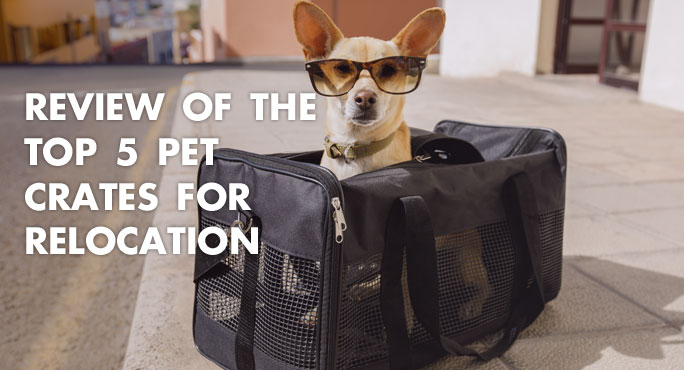 Choosing your pet's travel container is one of the most important decisions you'll have to make if you are relocating with your furry companion. Chances are good that your beloved Fluffy is in for her first-ever airplane trip, and that calls for special accessories – including an airline-approved carrier. Since most products don't meet these standards, how do you pick the best crate for your pet's relocation?
All five listed below meet official specifications and get high marks from travel-savvy pet parents.
Can your pet ride in the cabin?
Many airlines allow you to bring your cat or very small dog on board, at least on some routes. That doesn't mean you can simply stick little Fluffy into your tote bag. Her carrier has to meet certain safety requirements – especially for ventilation. It has to fit under the seat in front of you. And it has to fit Fluffy, too.
That sounds simple. However, under-seat dimensions vary from one airline (and aircraft model) to another, and small pets vary in size and weight, too. Adding to the confusion, there is no standard sizing among pet carrier manufacturers, so one company's "small" might be very different from another brand.
On-board carriers have to meet basic airline requirements, but beyond that you have considerable leeway. You'll find lots of functional options, and you can even award yourself (and Fluffy) with extra style points by choosing a color that coordinates with your look. Fluffy wants comfort options. You want details that make the carrier easy to handle.
A few tips:
It's a lot easier to fit a soft-sided carrier under the seat than a rigid one.

It's far more comfortable to tote a carrier that has wheels or can be worn shoulder-style. Your pet is going to feel heavier and heavier the farther you have to lug her through airport terminals.

Your pet's carrier takes the place of your carry-on. Choosing a carrier with pockets or similar options means you'll have a little space to stash your own take-with necessities as well as Fluffy's leash and a toy.
Top-rated choices:
Expandable for travel and airport down time, with easy access. Adjustable shoulder strap. Comes in 3 sizes for pets up to 20 lbs., and folds flat for storage. Quality, comfy, no color options.
Quality duffle style with removable fleece bed and optional adjustable shoulder strap (included), storage pockets, locking zippers, and seatbelt loops for car travel. Easy access, comes in 4 colors and 3 sizes plus optional large size with detachable wheels. Sizes are noticeably smaller than other brands.
Relocation kennels for cargo
If Fluffy is relocating internationally, she will probably travel as cargo, whether she's a kitty or a 75-pound labradoodle. Pet crates for cargo are very different – no frills, although you might have a color choice. Every detail of these kennels is designed to provide maximum sturdiness and safety:
Surfaces are smooth -- no protrusions or rough spots pets can chew.

Windows, the door, and ventilation holes allow pets to see and breathe easily, but there are no spaces small enough to poke toes or noses through.

Extremely sturdy materials.

Door locks even the craftiest pet cannot open.
Size is critical. Fluffy must be able to turn around, lie down normally, and stand erect without her ears touching the ceiling. Measure her!
Top-rated choices:
Single-unit door with 4-point security. Ventilation on all 4 sides (required for international travel.) Comes with required food and water dishes and "live animals" stickers. Available in multiple sizes, disassembles for efficient storage. You'll have to replace the plastic bolts with metal ones for airplane travel.
Same positive traits as the Sky Kennel, and comes with metal bolts. Smallest sizes do not have holes in the back, so you may have to drill some to meet airline requirements.
Pet-parents praise this product for its affordability. Meets all airline requirements, but comes only in XS, S, and M sizes.
Want to know more?
It's easy to find additional reviews online, and it's always helpful to read about the experience of other pet parents. However, the easiest way to ensure you get a top-quality, IATA-approved, properly-sized carrier is to ask our Starwood team to obtain the kennel for you.
If your pet is not riding in the cabin with you, her relocation kennel is crucial. It's her home away from home while she's in transit. It will protect her from potential dangers from outside and keep her safe within. Whatever crate you choose, buy it now so Fluffy has maximum time to become familiar with it. That way, she will not only be safe and comfortable, she will feel more relaxed on her journey.
Starwood Animal Transport has rebranded to Starwood Pet Travel. We are still the same great company with the best team, just now with a slightly different name.
Subscribe to the Blog
Enjoy our content? Get them sent to your inbox!
Subscribe Now!
Related Posts
Why Choose A Rescue Animal As Your Pet
Most anyone who owns a rescue pet will tell you these animals seem to know they've been saved from a terrible – and ...
Read More