How to Keep Your Pet Fit and Trim in the Winter
Published on: January 15, 2018 | Author: Starwood Pet Travel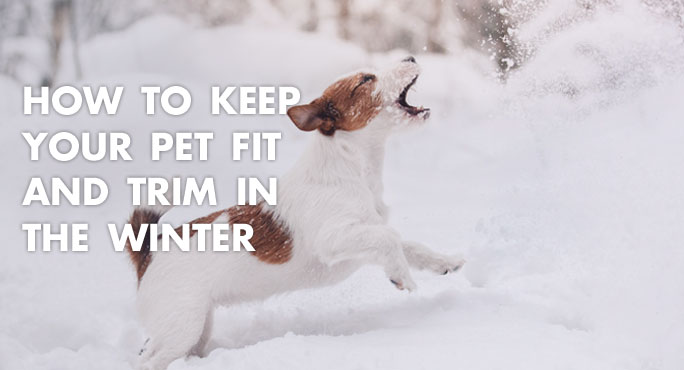 Correctly or not, many of us think of winter as the "sickness season." Colds, flu, and the like are much more prevalent. As a result, we take smart steps to help our families avoid getting sick. But as pet parents, we also need to take steps to ensure our precious furry family members remain healthy this season.
Extra pounds are not "protective" layers
Some of us tend to eat more when weather turns cold. We do that without thinking, turning to warming (but higher-calorie) comfort foods. Unfortunately, that can translate into unconsciously over-feeding your pet, too. The result – for both of you – will be undesirable weight gain. For most dogs and cats, even one or two extra pounds is a serious health hazard, so pay extra attention to what you're feeding and how much.
And make sure your pet gets plenty of exercise. Not eating too much is only half the battle. When inclement weather hits, it's tempting to simply stay indoors where it's warm and dry. Curled up with a good book or the ball game, our beloved pet curled up at our side. But this can be unhealthy, too.
Get creative to help your pet stay fit and trim in winter
Teach your dog to fetch snowballs instead of tennis balls. Or how to leap over rain puddles. Play fetch with him inside the house – carefully. Puzzle toys keep both dogs and cats occupied and mentally active. And make sure there are inviting chew toys or scratchers available, so your pet doesn't get bored and start to gnaw or claw the furniture.
If you're a winter sports fan and your dog is an appropriate companion, you're in luck. Strap on your skis or snowshoes and head off for some snowy exercise. Remember, though, that your dog's bare feet are susceptible to cold-related dangers, even frostbite. Booties will keep his feet warm and give him better traction.
Doggie day care is a great alternative, if there is one near you. Even if you have no need of daytime dog-sitting, taking your pup for a full day or a half-day visit will benefit both of you. He'll have a chance to run around and get rid of some of his pent-up energy, work his muscles, and make new four-legged friends. You may make a new friend or two yourself, as you meet other pet parents bringing or picking up their own pooches.
Cold feet can be just plain uncomfortable, and the snow and wet can dry out your pup's pads. Once you're back indoors and warmed up, rub some coconut oil or homemade dog-pad balm into his feet. Everyone appreciates a nice foot massage, and your guy will appreciate the moisturizing benefits as well.
Got a cat?
Lucky you. It's a lot easier to keep felines fit and trim in winter. If your kitty is an indoor-only type of guy, not much changes from season to season – except his view out the window. On the other hand, if your cat is used to spending part of his time outdoors, you may need a new plan. Most cats resent getting wet or having to pick their way through snow. And, obviously, the snow doesn't have to be too deep to entirely foil your cat's efforts to maneuver.
Wet and cold may cause your kitty to resist going outside, but when nature calls he won't have much choice. Be ready to let him back in quickly, though. If you're dealing with a very stubborn cat or weather that's worse than merely rainy, the best solution is a litter box. That may not be your first choice (or your cat's, for that matter) but focus on the fact that it's temporary.
Save your sanity
Keep an old towel handy by the door to wipe off your pet's feet. If your dog has long hair between his pads, trim it back. That way, it won't collect irritating little balls of snow and ice. (And you'll have less tracked-in mess to clean from your house or car.)
No whining
Your dog needs to go outside at some point, despite the rain or snow. So bundle up, leash him up, and get out there. If it's truly cold – below freezing – make it quick. Investing in a sweater or raincoat will keep your pooch comfortable on longer walks or play times.
Yes, outerwear is not only for purse-size designer dogs with fashion-conscious pet parents. Any size dog with short hair is vulnerable when temperatures drop, and even dogs with heavier coats will get cold if they're outside long enough. So unless your guy is one of the few winter-tough breeds, you'll be helping him stay fit and trim this season by taking a stroll down the apparel aisles at your favorite pet supply store.
Starwood Animal Transport has rebranded to Starwood Pet Travel. We are still the same great company with the best team, just now with a slightly different name.
Subscribe to the Blog
Enjoy our content? Get them sent to your inbox!
Subscribe Now!
Related Posts
Can My Dog Fly With Their Favorite Toy?
Just as­ Linus, the famous Peanuts comic strip character, loves his blanket, many dogs have a favorite toy. It brings them ...
Read More