Everything To Know About Your Pet's USDA-Endorsed Health Certificate
Published on: September 18, 2015 | Author: Starwood Pet Travel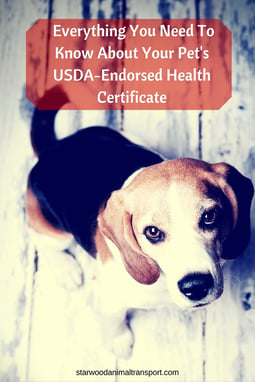 If you plan to travel outside the United States with your dog or cat, she will need a health certificate. The purpose of the certificate is to confirm for your airline and/or destination country that your pet does not present a health hazard to other animals or humans. Having the health certificate gives you extra peace of mind, too, knowing your treasured pup or feline is "good to go" for their upcoming travel adventure.
The official American pet health certificate is officially known as the US Interstate and International Certificate of Health Examination for Small Animals, or APHIS Form 7001. Although there are exceptions, most countries require this form to be officially endorsed by the USDA's Animal & Plant Health Inspection Service (that's APHIS).

Each state or geographic region has an Area Veterinary Services office – the one that serves your state is responsible for endorsing your pet's paperwork. Nonetheless, the process of obtaining the necessary paperwork starts with your pet's own veterinarian.

Here's how the process works
Many private vets are accredited by the USDA – in effect "deputized" to work cooperatively with state and federal vets and animal health officials. Many countries require that the vet who completes your pet's health certificate be accredited, although they may describe that as official veterinarian, competent authority or issuing authorized veterinarian. Regardless, US law requires a federally-accredited vet to sign the Form 7001. So if your vet is not USDA-approved, you'll need to find a different doctor to handle your pet's health certificate.

Your vet will personally examine your cat or dog, perform any additional work such as vaccinations or tests, complete the forms and sign them. You will then present the forms to the Area Veterinary Services office for review and authentication. You can do that in person, or you can send the materials via mail or courier along with arrangements to have everything returned to you. (They don't need to see your pet, just their paperwork.) There's a small fee involved, and you'll need to pay that at the time of endorsement.

Along with the Form 7001 and country-specific certificate (if needed), you'll need to provide all the supporting documentation. That could include signed original rabies vaccination certificates and an original copy of laboratory results. (Lab results may also be faxed directly from the lab to the VS office.)

What is your destination country?
Although the APHIS Form 7001 is universally used in the United States as an "exit" health certificate, that doesn't necessarily mean it's the certificate your destination country uses for pet import. They may have a separate country-specific form you'll also need to complete.

It's not simply a matter of filling out forms, though. It is essential to find out as far in advance as possible what information is needed, because there is a chance your kitty or dog will need extra vaccinations or tests that must be verified on their health certificate(s). It is also important to note that pets traveling internationally must be microchipped before receiving their most recent rabies vaccination.

There are specific windows of time associated with each of these things – for instance, vaccinations cannot be too old or too fresh at the time of your pet's departure – and a few things need to be done well in advance. If you miss these timing requirements, your pet will not receive her endorsed health certificate in time to travel as you planned.

Some countries have mandatory quarantine; however, in some cases the time can be waived or reduced if the required waiting period is completed prior to your pet's arrival.

You can look for information pertinent to your destination country on the APHIS International Regulations (IRegs) page. Just scroll down to the drop-down menu and select the country you want. The rules and the forms themselves do change from time to time, so double-check to be sure you're armed with the most recent information. Your vet may already have the forms, and they can call the nearest Veterinary Services office with questions.

Working with a pet transport company makes it much easier to find out exactly what paperwork your pet will need for your destination country and the timeframe required to round it all up. They can even take care of most of that on your behalf, leaving you more time to focus on other aspects of your moving or travel plans.
Starwood Animal Transport has rebranded to Starwood Pet Travel. We are still the same great company with the best team, just now with a slightly different name.
Subscribe to the Blog
Enjoy our content? Get them sent to your inbox!
Subscribe Now!
Related Posts
Exporting A Pet
The details of exporting a pet depend on which country you are departing and where you're headed. Let's assume you're ...
Read More