Can She Go, or Should She Stay?
Published on: October 5, 2018 | Author: Starwood Pet Travel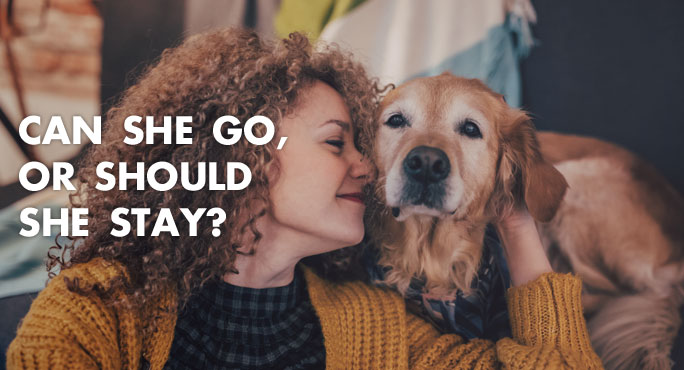 In 2014, Sheila and Stuart Mitchell had an opportunity to move to Abu Dhabi from their longtime home in Buckinghamshire, England. The couple's family consisted of five rescue dogs. Of course they wanted their beloved canines to join them in the move to Abu Dhabi. But should they?
"We discussed the logistics and costs of taking the dogs with us and whether it was right to move animals to a completely different culture with the very hot weather," Sheila recalls. "We spoke for about 10 seconds about rehoming them and blew that idea out of the water."
At Starwood Animal Transport, we've been helping families relocate their furry, feathered, and even scaly family members to the four corners of the world for decades. We are not only experienced pet transport specialists, we're pet parents, too. So we understand from our hearts why you expect your precious dog or cat to move with you, even if the move takes you overseas.
But can she go, or should she stay?
The answer to this question is not always as obvious as it may seem. Some pet owners worry if air travel is even safe for pets these days. The answer is yes. Rare mishaps do happen, and they often receive maximum public attention, but they are rare. Hundreds of thousands of animals travel by plane every year without any problems at all.
But while air travel itself is safe for the vast majority of pets, there are other factors to consider before deciding whether your beloved Daisy should relocate overseas:
Is Daisy a dog? What kind? Many countries do not allow dog breeds they consider dangerous. Typically the list is short and includes pit bulls and similar breeds. In a few countries, though, breeds such as Rottweilers and German shepherds are restricted. Check right away to see if your destination country has any issues with your dear dog.

Certain breeds (and some individual pets) may not adjust well to extreme weather in your new country. For example, heavy-coated northern breeds can have trouble in the tropics or very hot desert climates (such as Abu Dhabi), and dogs with very short fur and minimal body fat such as greyhounds may not thrive where it's very cold. Will you be able to make the necessary adjustments in your new home to ensure Daisy is truly comfortable?

Even though pets fly in temperature-controlled, pressurized space, flying can put brachycephalic (snub-nosed) cats and dogs at risk because breathing is always more difficult for these breeds. For that reason, at least some airlines have different rules about accepting short-snouted pets.

Travel can be harder on elderly pets, just as it can for elderly humans. Even under the best of circumstances, flying can be stressful for pets. Daisy may be frail, or maybe she has reached an age where she just doesn't want to deal with a big change.

Air travel can also exacerbate chronic health problems in cats and dogs. On the other hand, if Daisy's condition is well-managed and under control, she may be perfectly fine to fly.

And what about veterinary care where you're headed? This may not be a concern -- with pet ownership increasing dramatically around the world, you can find well-trained vets in most countries. But not all. If you are unsure, it's smart to check out the vet situation before you make a final decision to bring Daisy with you.
So can she go, or should she stay?
Sometimes the most loving answer is no
Only you can decide once you have considered all the pros and cons from Daisy's point of view as well as your own. It may be kinder and safer to let her sit this one out, difficult as that is to think about. But don't despair – chances are very good that Daisy will be just fine to make the move. Purrfect!
Talk to your vet, and talk to us as well. Among the thousands and thousands of pets we've helped to safely relocate overseas, many have been older or have had chronic health or other challenges. We know you want to uncover every possibility to keep your four-legged family member with you, and we're here to help.
We can unravel the complexities of airline rules and weather challenges to simplify and streamline pet travel, making each journey safe, comfortable, and as short as possible. We use the best airlines for pets and monitor each pet's travel on your behalf, every step of the way. Sheila and Stuart Mitchell called on our Starwood UK team to transport their five dogs to Abu Dhabi, and the rest, as they say, is history.
Starwood Animal Transport has rebranded to Starwood Pet Travel. We are still the same great company with the best team, just now with a slightly different name.
Subscribe to the Blog
Enjoy our content? Get them sent to your inbox!
Subscribe Now!
Related Posts
5 Tips to Help Your Pet Shed Pounds
There is no such thing as "pleasantly plump" when it comes to pets. Just a little bit of excess weight can create serious ...
Read More