British Airways Pet Policy
Published on: March 25, 2022 | Author: Starwood Pet Travel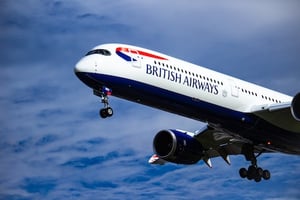 British Airways takes great pride in their excellent treatment of animals of all kinds. They note they've been transporting all types of creatures – including highly endangered species – around the world for half a century.
Nonetheless, if you are moving or traveling internationally with your pet, chances are your pet will have to ride in the cargo hold if you book your flight on British Airways. British Airways does not allow pets to travel with you in the cabin on any flights – with one exception. A recognized service dog may accompany you, at no charge in-cabin.
This applies to dogs that have been trained to assist a person with a disability or medical condition and have been determined as being able to travel safely in the aircraft cabin. This in-cabin exception does not include Emotional Support Animals.
If your pet's itinerary includes other airlines, you must check with them to learn about their pet policies, because every airline is different.
Cargo travel
British Airways is committed to giving pets the same care and attention they give people, noting their animal handlers are both "skilled and passionate" pet-lovers. Conditions are strictly monitored in the cargo terminal and in the hold where animals travel.
You always want to make your pet's reservations as early as you can and this is especially true if you are traveling to London. If you have a very large dog, ask about weight or size restrictions for the specific flight(s) involved, because these can vary for different aircrafts. Ask the agent about breed restrictions, too, because British Airways embargoes some breeds of cats and dogs.
Your cargo-traveling pet will need a kennel that meets International Air Transport Association guidelines.
Your cat or dog will need appropriate travel and health documentation. These requirements vary by country, and it's up to you to learn what you will need. Start this process early, as it can be time-consuming and complicated.
Learn About the Pet Import Requirements
If you and your pet are headed to the United Kingdom or a country in the European Union, you will need to read up on the requirements for these countries. The rules differ depending on what country you're coming from, and some destination countries have additional requirements.
In general, EU countries and the UK require all cats and dogs to be microchipped, have a rabies vaccination greater than 21 days old and have a health certificate within 10 days prior to travel (if non-commercial). Some countries such as the UK, Ireland, Finland and Malta also require dogs to be treated with a tapeworm treatment between 1-5 days prior to their arrival. If you don't comply with the pet import regulations then your pet could be in for a lengthy quarantine stay, and you'll have to pay additional fees.
We always recommend taking the stress our of pet travel and hiring a professional pet shipper like Starwood.
Starwood Animal Transport has rebranded to Starwood Pet Travel. We are still the same great company with the best team, just now with a slightly different name.
Subscribe to the Blog
Enjoy our content? Get them sent to your inbox!
Subscribe Now!
Related Posts
Can My Pet Travel By Train?
We know that pet owners who are moving or just traveling want to take their pets along with them. However, your mode of ...
Read More