Best Places to Dine with Your Pet in Singapore
Published on: May 3, 2017 | Author: Starwood Pet Travel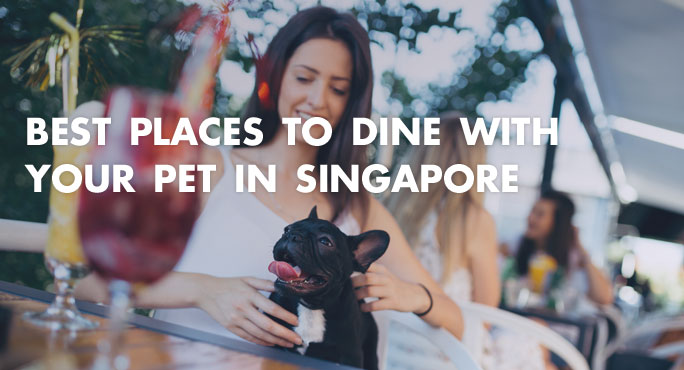 What's better than relaxing with a hot latte or glass of wine or enjoying a tasty meal at an outdoor café? Sharing the experience with your beloved, of course. We're talking about your beloved four-legged companion. If you live in Singapore, or you're moving there, you and your pooch are in luck.
What's your pleasure?
Coffee or tea to beer and wine, burgers and pizza to international cuisine from every continent, kick-back casual to white-table-cloth elegant . . . there are a lot of places in Singapore you're welcome to dine with your pet. There are venues from beachy seaside to city-center bustle to off the beaten path.
You'll probably be asked to sit outdoors, although some pet-friendly dining places in Singapore allow dogs indoors, too.
Where can you go?
To name just a few, here are some pet-friendly restaurants with top ratings on Foursquare, listed in impartial alphabetical order:
Brewerkz Restaurant and Microbrewery
Café Iguana
Coastes
Happenstance Café
Ice Edge Café
Poulet Vous Rotisserie Chicken
Red House Seafood Restaurant
Sun Ray Café
Tanjong Beach Club
The Book Café
The Coastal Settlement
Wala Wala Café Bar
Wave House Restaurant and Bar
You get the idea. You'll find plenty of other online resources to get more recommendations on where top dine with your pet. And of course you can always get advice from other pet owners. If you want to try a new place, just call and ask if they accept pets.
Take your pup to Open Farm Community for lunch or dinner. If you go on the last weekend of the month, your pooch is also welcome to tag along as you explore the farmer's market.
At The Green Door, your beverage comes with a refreshing drink for your pooch as well – a bowl of water. But at Sun Ray Café in Serangoon, there's more – a special a menu just for "fur kids." Your pet can choose beef, chicken, or salmon. Or perhaps he'd rather have Bento. Or one of their chef-made dog treats. Take your pooch on his birthday, and he can enjoy his very own doggie birthday cake.
Colbar is a great little place to try when you and your canine are walking the Green Corridor. In addition to their big patio, there's plenty of grass for your pup to enjoy. If he's a good boy, he can roam off-leash.
Then there's the Ah B Café in Sunny Heights. You'll wish you were a dog, once you see their fenced-in play space and dog-friendly swimming pool. Your pooch is welcome to join you indoors or outside here. There are even cushy bean bags for him to lounge on. If he gets peckish, the bakery next door – aptly named Pawlicious – offers several varieties of yummy treats.
Restaurant pet-iqiette in Singapore
Make sure your pooch is ready for prime time when it comes to dining with you. A preceding walk or run in one of Singapore's dog-friendly parks will help tire him, so he'll be more inclined to chill out or snooze rather than investigating the culinary offerings or creating a commotion. Bringing one of his favorite chew toys or a long-lasting chew treat will also help keep him occupied.
Some pet-friendly venues in Singapore do not require dogs to be leashed. Nonetheless, you're responsible for your pet, so carefully consider your dog's personality and controllability before you allow him off leash. If your dog is iffy when it comes to following commands, work with him on improvement before allowing him to dine out with you. Sit, down, stay, and leave it are a must anywhere you go in public.
Make sure your pup doesn't sit where he'll be in the way of other patrons or wait staff.
Although most restaurants will gladly provide a bowl of water, carrying a portable water dish is a good idea, just in case. And if you feed your dog goodies at the table and he doesn't eat them, clean up after him. Pack a poop bag, too – again, just in case you need that sort of clean-up. (Better yet, make sure he's already completed his business before you head to the restaurant.)
And speaking of etiquette . . .
Many restaurants that allow pets ask that you let them know in advance your four-legged friend will accompany you. Some actually require reservations, because they have limited pet-friendly seating. Once your mouth is watering, you don't want to be turned away!
Bone appétit!
Starwood Animal Transport has rebranded to Starwood Pet Travel. We are still the same great company with the best team, just now with a slightly different name.
Subscribe to the Blog
Enjoy our content? Get them sent to your inbox!
Subscribe Now!
Related Posts
Pet-iquette in Italy
One thing that is universally true around the world is that every country is at least a bit different from any other. Some are ...
Read More