Moving a Pet to the United States
Rules and Regulations for International Pet Shipping
What Pet Travel Documents Are Needed to Travel to the United States?
The US Department of Agriculture's Animal and Plant Health Inspection Service (APHIS) and the Centers for Disease Control (CDC) both regulate cats, dogs, and other pet animals entering the country. However, many individual states also have health-related rules you'll need to follow. You can check on that by visiting the USDA's page for dogs or cats and clicking on your destination state from the drop-down menu.
Don't overlook this step, because some states require a health certificate, whereas the federal agencies do not. (For that matter, some airlines also require a health certificate for traveling pets.)
USDA/CDC rules depend on where your pet has been living. If you don't comply with these import requirements, there will be delays and headaches when your pet tries to enter the US.
Health Certificates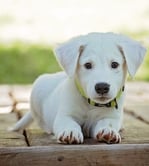 Dogs
For pet dogs, no health check is required, unless you happen to be coming from a country where screwworm or foot and mouth disease exist (see below).
Cats
Although the Veterinary Services division of USDA/APHIS does not require a general health certificate or a rabies vaccination certificate, the CDC reserves the right to visually inspect your kitty at her port of entry. The CDC's primary concern is preventing infectious diseases that can be transmitted to humans from coming into the country.
Import Permit
Dogs
All dogs brought to the United States to be sold or adopted must have an import permit issued by the USDA. They must be vaccinated for rabies and distemper, hepatitis, leptospirosis, parvovirus, and parainfluenza virus. They must also be at least 4 months of age. Learn more information about this here. Or you can view the common questions and answers about an import permit by following this link.
To acquire an import permit, you must fill out the application and submit to APHIS. You can receive the application by reaching out to APHIS. Here is their contact information: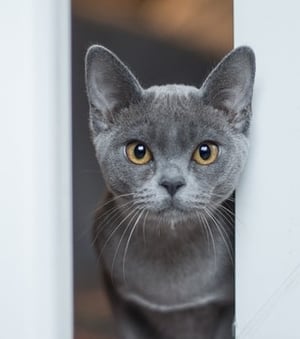 Cats
Cats do not require an import permit.
Vaccines
Rabies Vaccinations

Dog
Dogs arriving from countries with a High-Risk for rabies are required to travel with a valid rabies vaccination certificate.

Dogs arriving from low-risk or rabies-free countries are not required to have proof of rabies to enter the United States. However, most individual states require dogs to be vaccinated for rabies.
Cat
Cats are only required to have proof of rabies vaccination for specific states. You can learn about state-specific regulations for cat pet travel here.
Tapeworm Treatment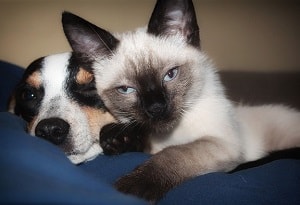 Dogs
Dogs used in the handling of livestock and being moved from outside the areas outlined below must have a tapeworm treatment administered by a licensed veterinarian before entering the United States. They are also subject to inspection and possible quarantine. Here are the areas excluded from this treatment: Canada, Mexico, regions of Central America and the West Indies.
Cats
Not applicable
Foot and Mouth Disease
Pets being imported from countries affected with foot and mouth disease are encouraged to take additional precautions to prevent bringing foot and mouth disease into the United States. These precautions are:
Feet, fur, and bedding should be free of any dirt or mud
The pet's bedding should not have any straw or hay in its bedding
The pet should be bathed as soon as they arrive
The pet should be separated from any livestock for at least 5 days after arriving in the US
You can find a list of countries that may be affected by foot and mouth disease here.
Blood Tests
Dogs
Dogs are not required to have a Blood Titer Test for travel to the United States.
Cats
Cats are not required to have a Blood Titer Test for travel to the United States.
Screwworm Inspection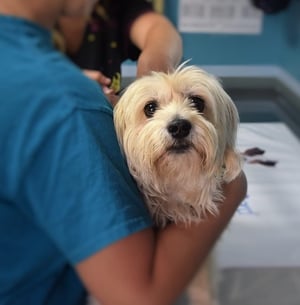 Dogs
Dogs will need a certificate verifying that they have been inspected within 5 days of departure for the US and that they:
are not infested
were infested, but have since been treated and are now free from screwworm
The certificate must be signed by a local, full-time, salaried veterinary official.
Below are countries where screwworms are present: Angola, Argentina, Bhrain, Bangladesh, Benin, Bolivia, Botswana, Brazil, Brunei, Burkina Faso, Burundi, Cambodia, Cameroon, Central African Republic, China, Colombia, Congo (Democratic Republic of), Congo, Democratic Republic, Dominican Republic, Easter Island, Ecuador, Equatorial Guinea, French Guinea, Gabon, Gambia, Ghana, Guinea, Guinea-Bissau, Guyana, Haiti, India, Indonesia, Iraq, Ivory Coast, Jamaica, Kenya, Kuwait, Laos, Lesotho, Liberia, Macau, Malawi, Malaysia, Mali, Mauritania, Mozambique, Myanmar, Namibia, Nigeria, Oman, Palau, Papua New Guinea, Paracel Islands, Paraguay, Peru, Philippines, Qatar, Rwanda, Saudi Arabia, Senegal, Sierra Leone, Singapore, South Africa, Spratly Islands, Sri Lanka, Suriname, Swaziland, Taiwan, Tanzania, Thailand, Togo, Trinidad and Tobago, Uganda, United Arab Emirates, Uruguay, Venezuela, Vietnam, Zambia and Zimbabwe.
Cats
Not applicable.
Photo of Pet
You're not required to have a photo of your pet to transport them to the United States. (We bet you have plenty of those on your smartphone should you need one!)
What Are the Pet Restrictions for the United States?
Banned Breeds

The United States does not ban any breeds. However, restrictions of certain breeds may be present in some cities. Please make sure to check with the local government before you move your pet.
Age Restrictions for United States
Dogs
For high-risk countries: A dog must be four months or older to enter the United States. This is because they must have a rabies vaccination that is 30 days or older, and puppies should not receive these vaccinations until they're at least 3 months old. When you combine 3 months with the 30-day vaccination period, this sets the age restriction at 4 months.
For dogs arriving from a low-risk or rabies-free country, there is no restriction on age. These dogs must be accompanied by a statement that the dog has been a resident of the country of origin for at least six months or since birth.
Cats
There is no restriction on a cat's age for traveling to the United States.
Do I Need a Microchip for My Pet to Travel to the United States?
Transporting your pet to the United States does not require a microchip implant, but it is highly recommended. Nobody wants to lose their pet as they move to a new country.
What Are the Quarantine Requirements for a Pet Traveling to the United States?
If your destination is the state of Hawaii, or the territory of Guam, your pet will have to spend a few days in quarantine before she is released to you. (This is true even if you're traveling from within the US mainland).
Are There Any Area Specific Pet Requirements in the United States?
Looking for state-specific regulations in the United States for your pet travel? Click on the link below for your pet type and then choose the state you are looking to lear more about!
Dog - Pet Travel Regulations for US States
Top Destinations in the United States
Our Top Blogs About the United States
Our United States pet shipping services include:
Door-to-door transport
Assistance with health certificates, import certificates, and other travel documents needed for animal transport to the United States (outlined above)
USDA endorsement and consular legalization (when needed) of all relevant documents where required
Airline-approved flight kennels provided with personalized labels, identification and emergency notification instructions
Customs clearance and delivery to your home
Local pet taxi service to and from the airport, your home, veterinarian, kennel, or groomer – available in major US cities as well as their surrounding areas
Travel consultation and flight reservations
We will inform you of your pet's full itinerary before the trip and we will update you as your pet travels to the United States.